Help! It's winter and all that I have a is a point and shoot.
February 19, 2008   |   by Rachel
On Sunday a friend and mother of 3 (due with her 4th today!) was telling me she has trouble being motivated to take pictures.  Discouraged by the lack of nice light indoors and the crummy quality of flashed pictures she was noticing that she wasn't hardly taking any pictures at all.  Personally when I'm pregnant LOTS of things slide.  Do not look in my fridge of shower when I'm pregnant.  Sparkling isn't a word that would be used to describe them.  Ok, I admit.  Don't look in my fridge or shower right now if you are looking for anything that represents bling. Back to photography.  Her comments inspired me to give a few winter tips. 1. First, get you camera out.  Have a place in your living room or kitchen that your camera lives.  Mine lives on a bookshelf.  Also, always store your camera with an memory card in it.  It's much easier to take pictures if your camera is out and loaded.  Digging through a drawer, taking it out of a case and then looking for the memory card, which is undoubtedly somewhere near the computer, all add just enough steps that pictures don't get taken. 2. Go outside.  All of the white snow and the overcast skies make great photography conditions. 3. Since it's currently 16 degrees and the above mentioned technique isn't the most kind, use windows.  Open those shades, rearrange your living room, do what ever it takes to have lots of nice window light flooding in.  It'll feel good even when you don't have your camera out.   Arrange your toy area near big windows.  Your kids will easily gravitate toward the well lit areas and it will be more natural to grab the camera and get some nice images.  When using window light it's important to have you back or shoulder to the window (you don't want to see the window in the picture) but make sure not to cast a shadow on your kids.  Overcast days are the easiest.  If the sun is out, make sure to avoid those spots where the sun makes a square on the floor.  That's called direct light and it's too hard.  You are looking for soft indirect light.  I'd create some examples but the sun isn't out today and it might be March before we see it again (Welcome to Michigan!  The land of indirect light). 4. All of the above is well and good but sometimes your kid does something really cute away from a window, or at 4:30 when it is already dark out, etc...  In those moments using your flash is the only option.  The best way to use your flash is to step away from your kid and zoom in real close.  Get close by getting far.  The light from the flash will look much better and the effect of focal length (zoom) will be much nicer.  See this post about focal length for an explanation of this. These images are straight out of my point and shoot, using a flash in a dark corner of our kitchen--bad camera, bad conditions, no adjustments. In this picture my feet were close to Win and my camera was zoomed short.  I used the flash on my point and shoot.  Do you see how his hand looks like a glowing torch at the end of a 12 foot arm?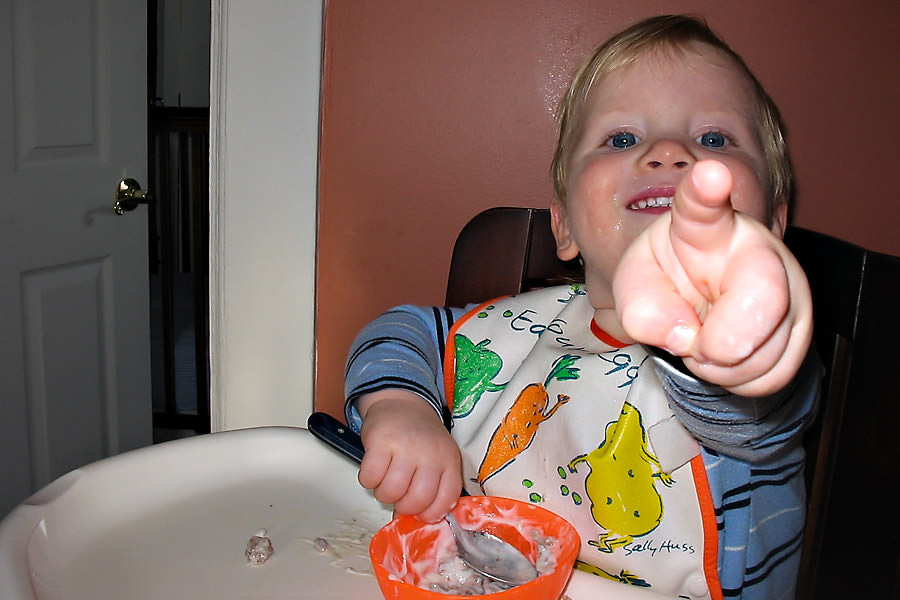 In this picture my feet were further away but I used the camera to zoom long across the room.  His face is the same size as the picture above.  Do you see how his hand and his face are lit much more evenly?  His arm looks much more proportional too.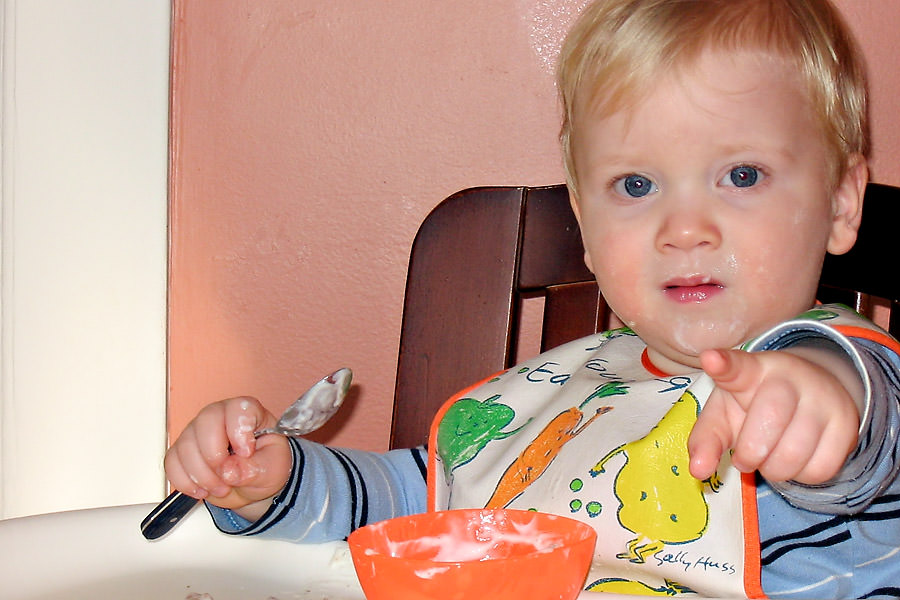 Store your camera in plain view.  Go outside or use windows.  If you can't, then stand back, zoom close and turn on that flash.  Life doesn't always happen near a window.